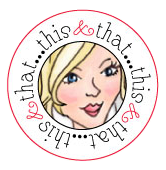 Today I have a treat for you all -
Blondie's Shop
! Created by the wonderful Heather, who also blogs over at
...this & that...
, this esty shop is full of adorable note cards. Heather specializes in one-of-a-kind, beautiful stationary. I have a set of her note cards so I can speak from experience when I say that I adore her work! Whenever I want to make a good impression or send a note for a special occasion, I use my cards from Blondie's Shop.
I had the pleasure of meeting Heather in person a few months back and she is just as sweet as her creations! So sweet that she's offering you all a discount to her shop. More about that in a bit. First, here's a little Q&A session so you can get to know Heather better:
When did you open your shop?
I opened my shop December of 2010 between Christmas and New Year's.
What inspires your creations?
Wow! I'm inspired by so many different things. For starters, the blogs I follow. Some of these ladies are so creative but, really sometimes it's the pictures that are posted. Just recently I was inspired by a few different bloggers backgrounds - I was inspired to create cards that match. Oh yes, and I did it too! It's really a lot of fun to visualize a design and figure out which papers, textures, ribbons, inks, and embellishments will make my vision come to life! In a nutshell if you were to give me a few ideas for design and say a color scheme you'd like me to stick to I'd be able to design the card.

Have you always been crafty, or is it a fairly recent development?
I'd have to say that I've been a crafty person for quite some time but, it comes and goes (with time). I enjoyed home economics in junior high and as a kid we did some crafty stuff. Candidly, my creations relieve stress! Yes, they do. You see, I taught myself to knit several years ago as a way to relieve stress and I love scarves so, it's a win-win situation. Plus, I enjoy making things for others as well. I will admit that my craftiness over the last 9 months has been in extreme high-gear!

Are there any words of wisdom you'd give to people who want to create their own esty shops?
For anyone out there that has a talent and wants to showcase that talent please do so! Starting an etsy shop is not difficult and affordable. I'd suggest that if someone is interested they do a little research first, I did. My etsy shop is part part-time and for fun - I do have a full-time job that keeps me quite busy. And remember in the beginning of owning a shop there is a learning curve and it will seem quite cumbersome; however, with time that eases.

A few tips for starting an etsy shop:
1) research other etsy shops and similar products to your own, 2) calculate how much time and product you need to determine the price (and don't forget to include mark-up, roughly 30%), 3) make a schedule and set aside time to work on your shop and this includes your to-do's, 4) set some goals for your shop (sales, creation), 5) network, network, network (it is important to share the word about your shop), and 5) remember to have fun. And remember that your shop is a real business so treat it as one.
Great advice I'd say! Thanks so much to Heather for sharing with us :)
Now it's time for the discount code. Simply head to
Blondie's Shop
and use the discount code
jointhegossip
at checkout for a
20% off discount
!