Sad news this Monday morning :( Today is the first Weekend Update without our beloved
Dana
. She's retired from hosting the linkup. Girlfrand is a busy lady and although Sami and I are upset going to miss her not hosting with us, we are happy for her to be able to spend the extra time with her little guy who turns 1 this month! She'll still blog, but just not as frequently.
Since it's just Sami and I, we have a new button, created by the talented Aubrey of
Kinch Life Designs
! Please be sure to use this button for future linkups.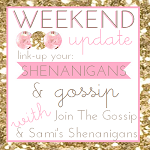 Now onto to my oh so exciting weekend! I got a root canal Friday and today go back for the second half of the procedure, the temporary crown. As a result, I didn't do much this weekend. I did get my hair done at least, though. After my
blue ombre hair
, I was feeling bored with blonde. For a second I considered going dark but decided against it and went with ombre. That satisfied my indecisiveness since my new 'do is brown and blonde.
What did you do this weekend? Link up with me and my co-host Sami of
Sami's Shenanigans
and tell us all about it. We just ask that you follow these rules:
1. Blog about your weekend
2. Add the badge (above) to your post.
3. Add the blog post link to the linkup below.