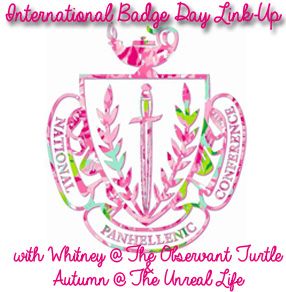 Today I'm talking Delta Zeta. I pledged DZ in 2001 along with Kathrin of
Shop.School.Sleep.
To start off I wasn't into the whole sorority thing, but we'd been friends since jr. high and she wanted me to go through recruitment with her
s
o I decided to give it a try. We wanted to join different sororities (to make double the friends) but ended up at the same spot! Our Bid Day was actually THE 9/11. A day I really will never forget.
Over the course of my four active years I learned and grew a lot. I stepped out of my comfort zone. I met people I never would have. I was Greek Week Chair. I went to fraternity parties. I made life-long friends.
To this day most of my very best friends are a my sisters. I've gone to their weddings, baby showers, baptisms, and countless lunches. I am so lucky to be a DZ!
Four DZ Facts:
Delta Zeta was founded October 24, 1902
We are the second largest fraternal organization in the nation and the largest international sorority
Our badge was designed by Tiffany & Co.
Our mascot is the turtle