Today I'm doing a guest post over at Hot Pink Combat Boots! I'm excited and proud of my sailing inspired post, please
check it out
if you get a chance :)
And now onto some fashion! I am linking up with Kori of
Blonde Episodes
for her weekly installment of Fashion Fridays. If you remember, Kori is the doll that I had the pleasure of lunching with at a blogger meetup a few weekends back. I highly suggest you check out her blog.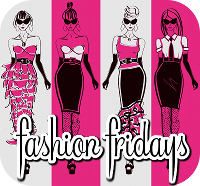 In the meantime, I am here to spotlight Kate Middelton. I figure it's only fitting since today is her and Prince William's wedding day. Although I am not all over the royal nuptuals, I am all over Kate's style. She is so chic. Exactly what I think of when I think about British sophistication.


And THE dress

Personally, I think she's adorable! But what about you? Are you into her style or is it too plain for you?

Be sure to enter my latest giveaway for over $500 worth of NuMe products!





Photos courtesy of: Google