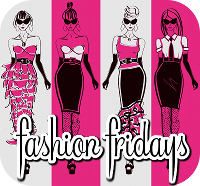 Happy Friday, everyone - and Fashion Friday at that! This week I'm featuring
Jennifer Aniston
, one of America's most beloved sweethearts. She is the epitome of style, having inspired the "Rachel haircut" that so many women went crazy over in the 90s. In fact, she's the inspiration for my current
ombre hairstyle
.
When it comes to her clothing, Jennifer is pretty much always spot on. I can't think of one time when she's committed a fashion crime. Maybe except for that summer two years ago when I saw her hiking in a long sleeve shirt and scarf, but that may have been because she was trying to conceal her identity in such a public Hollywood hiking location.
Jennifer mostly opts for casual Southern California attire. She looks beautiful without even trying. When she's at a premiere her wardrobe is usually simple, yet chic and sophisticated.
So what do you think of Jennifer Aniston's style?
Have someone else in mind who's fashion sense you idolize? Link up with Fashion Friday and share your style thoughts! I'm having a blast linking up with Kori of
Blonde Episodes
, the genius behind this blog hop, and you will also!
P.S. As everyone has been mentioning with your blogs, Blogger lost my post from yesterday. I didn't get a chance to review your comments and visit your blogs - SO sorry! Not sure when the post was deleted so I'll just repost again next week for Pink and Green Thursday. Sorry if it's a repeat post for some of you.