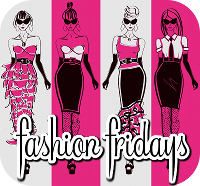 Pump, pump, pump it up! This week's installment of Fashion Friday is all about a love shared by most of us women - heels! The right pair of shoes can really add extra pizazz to an outfit. Personally, I wear a lot of black so I like to use a bright pair of pumps to liven things up.
via
Do any of you remember the bad ass pumps from below? Months back I blogged about my friend's rock star wedding...like she literally married a guy that play guitar for a huge musician...well these are the pumps she wore on her big day (read about it
here
). Pretty fabulous if you ask me!
Be sure to link up with
Kori of Blonde Episodes
and join in on the Fashion Fridays fun :)